Servicing & Repairing Jewelry In Our Community For Over 30 Years
WE HAVE A WIDE RANGE OF REPAIR SERVICES AVAILABLE
All jewelry repair is performed in-house by our team of model makers, bench jewelers, stone setters, and master craftsmen. From a cracked ring to a bent or broken prong, our shop will inspect and diagnose the best available options to ensure your jewelry can be worn safely. While standard repairs are completed within a week, ask your consultant about our Express Same Day Service if that is important to you.
If any of your precious stones or diamonds have been lost or damaged, We carry most of these replacements in stock, and a there is always a stone setter on standby. If a specific gem you need is unique, our shop has a vast network and resources from where we will acquire a perfect replacement. In some cases, we may have a stone cut custom to be fitted into your jewelry. Our jewelers will always check on the integrity of the channels, prongs, or any metal holding your stones in place.
While our jewelers can re-make anything almost from scratch, some older antiques, and or precious heirlooms are so sentimental that our jewelers may consider restoring them to an original state. Jewelry Restoration is for items that generally need more than used in a routine repair. This can be challenging and rewarding, this task is preformed always in-house by one of our many master jewelers.
During your visit ask about our free jewelry inspection and cleaning. Having us performing regular check-ups on your valuables will help to keep your jewelry safe to wear. A jeweler will check all of your stones and prongs, and tips are secure before cleaning the item. Here if you want them to inspect your items further, they will notify you of potential problems to watch out for and or what future repairs to consider. This preventative maintenance is highly recommended every 3 to 6 months on daily wear items to help stop stones from falling out before hand, and clasps from loosening just to name a few.
WHY REPAIR WITH US?
There is generally only a few jewelers more qualified to handle your jewelry repairs than the actual craftsman. We do a lot of outsourced repairs for local jewelers. Our Jewelers can create such treasures from scratch and repair them also. With a vast amount of years in combined experience, our master jewelers have encountered almost every jewelry repair scenario.
If this talented team of stone setters, mold makers, gemologists, and bench jewelers is not enough to convince you with all of their experience, our shop, procedures, and facility should. A unique combination of hand craftsmanship combined with state of the art CAD technology makes it possible for us to complete any traditional jewelry, to the most unique repair possible.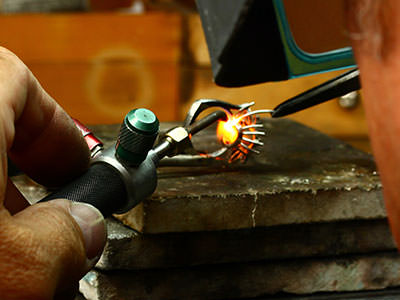 All jewelry repairs are done in-house by skilled jewelers so that you can be confident that your jewelry is in good hands.
WHY DOES JEWELRY FATIGUE?
With decades of experience repairing jewelry, one thing that we learn is that precious metals will fatigue or erode. The "wear and tear" takes place over time when precious metals rub or bang against equal or harder surfaces. Constant contact with counter tops, dishes, other jewelry, or even other jewelry will slowly wear away at gold or platinum settings, weakening hinges, prongs, joints and clasps.
"Metal fatigue" takes place when any metal is stressed by constant banging, bending or knocking. Impacts made from hitting a ring on a door, or the constant pressing and pulling of your bracelets latch or spring clasp slowly over time creates metal fatigue.
Once metal fatigue starts or erosion occurs, the latches, prongs, clasps and links are much more prone to breaking, our jewelers will advise you on the best recommended procedures necessary to repair and such damaged articles.
PROLONGING THE LIFE OF JEWELRY
The most common jewelry repairs are on worn parts or prongs. In most cases a very simple prong repair will avoid you from having to completely replace a stone, or the possible loss of multiple stones. Another very common service is tightening the links that make up a gold chain, there are in a constant motion, along with a pendant wearing against one another, and making it highly likely to breaking. This could easily lead to the loss of your pendant and or chain. Chains, along with bracelets and sometimes have pins, also have most the time have jewelry clasps, which are often lost or damaged from "wear and tear" and need repair or replacement.
DETERMINE YOUR RING SIZE
Size Your Finger
Visit our showroom and an experienced jewelry consultant will size your finger. Every finger varies slightly, so make sure you know which hand and finger you plan to wear your ring on. Depending on the width of the ring you plan to wear, we have both thin and thick ring sizers for you to try on in quarter-size increments. The width of the ring, and number of rings being worn together, greatly determines what size they will need to be.
Measure an Existing Ring
If you are buying for someone else, you may be able to measure one of their existing rings in order to get an idea of their finger size. If you are making a ring with Jewelry Designs, our craftsmen can always size it appropriately to their finger once it has been gifted to them.
Sizing Alternatives
For those who are prone to swelling or arthritic fingers, be sure to ask our jewelry consultant about your options. Sizing beads, adjustable shanks, and more, will allow your rings to slide over your knuckle without spinning on the slimmest part of your finger.
Jewelry Designs' Size Guarantee
If Jewelry Designs is making a ring for you or someone you love we want to make sure it fits just right. Before we start, make sure you know what finger the ring will be worn on and our jewelers will custom make it specifically in your size. Once the ring has been made, we will adjust the size as needed until you or your loved one decides it is comfortable.
WHY SIZE YOUR RING WITH US?
Ring sizing may seem like a pretty common procedure, and in most cases it can be. Sometimes, we see jewelers will simply hammer a ring up into a larger size or put unnecessary stress on stones and settings by manipulating the material beyond its limit.
The first step in a "ring sizing" is to evaluate the distance in which a ring will have to be opened or closed after a section of metal is either added or subtracted from its base.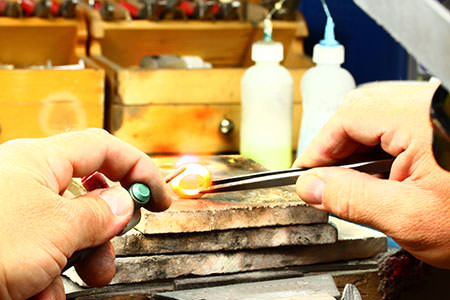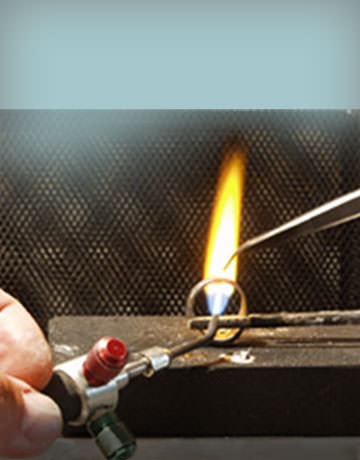 Any of our jewelers will be able to use the tools to measure your ring size and check the ring as well as diagnose your ring so that it can be properly sized by us directly. Our experience will help us evaluate each ring sizing on an individual basis and determine the best method to size your ring for you and also ensure its integrity. If any additional jewelry repair is needed, we will also recommend it at the time that you leave your ring with us. While your ring is in our shop it will receive proper jewelry cleaning and also rhodium plating if required.
Rhodium Plating

1. Bring In Your White Gold Jewelry
The rhodium process is typically completed nominal fee. If you purchased your white gold jewelry with us, this service is usually free for the first time then will be discounted thereafter.
2. Preparing for Rhodium
Before plating, your consultant will inspect your jewelry to be sure it does not have anything that is loose. Once this process has been completed then we know it is safe to proceed, our jeweler will give it a full once over evaluation to prepare it for the rhodium process.
3. Rhodium Plating
Rhodium is carefully applied to precious metal surface through the electroplating process, quickly returning it back to the bright white luster from before. Depending on how much wear and tear your jewelry has experienced, you might need to re-plate it every 6 months. Bracelets and Rings worn daily will need to be brought in for rhodium far more often than pendants or earring that do not get as much contact.
WHY DO WE USE RHODIUM OVER WHITE GOLD?
Until the popularity of white gold became the metal of choice, most buyers had little to no knowledge of rhodium plating or how it is used today in fine jewelry. With the increased demand for white gold, most consumers are now realizing that the very shiny chrome white look that appears on a brand new item disappears over time. This is a bit difficult to understand until you remember that all white gold comes from pure yellow gold. White gold is created by combining pure, 24kt yellow gold with many other white metals creating a recipe.
It is a rhodium plating that gives the shimmering white chrome tone to metal. When manufactured, all white gold jewelry has a faint tint of yellow. To change this, manufacturers coated jewelry with a rhodium plating. Since rhodium is a very rare precious metal that can be extremely corrosion resistant, it keeps a brilliant shiny polish also provides a very durable finish for fine jewelry.
Despite its durability, most of the rhodium plating will eventually erode from any surfaces that are constantly exposed and worn. Notably, at the center or base of rings are scuffs from hard surfaces during the every day wear. When this happens, those areas that have been repeatedly been scuffed reveal the slight yellow tint first.
Despite its durability, rhodium plating will ultimately erode from surfaces that are exposed to constant wear. Most notably, at the base of rings that are scuffed on hard surfaces during daily wear. When this happens, the areas that have been repeatedly scuffed reveal the slight yellow tint. At first these traces of color are not detectable; however, as time goes by the tint becomes evident.
If you have white gold jewelry that is losing its luster or shifting in color tone, should consider bringing it into our shop for a professional evaluation . While you are here we will inspect, clean, and or polish your jewelry as needed.
The same staff who is responsible for creating jewelry in our shop will also use their same skills and the best equipment to refinish your any of your jewelry.
GOLD & DIAMOND BUYERS LAS VEGAS